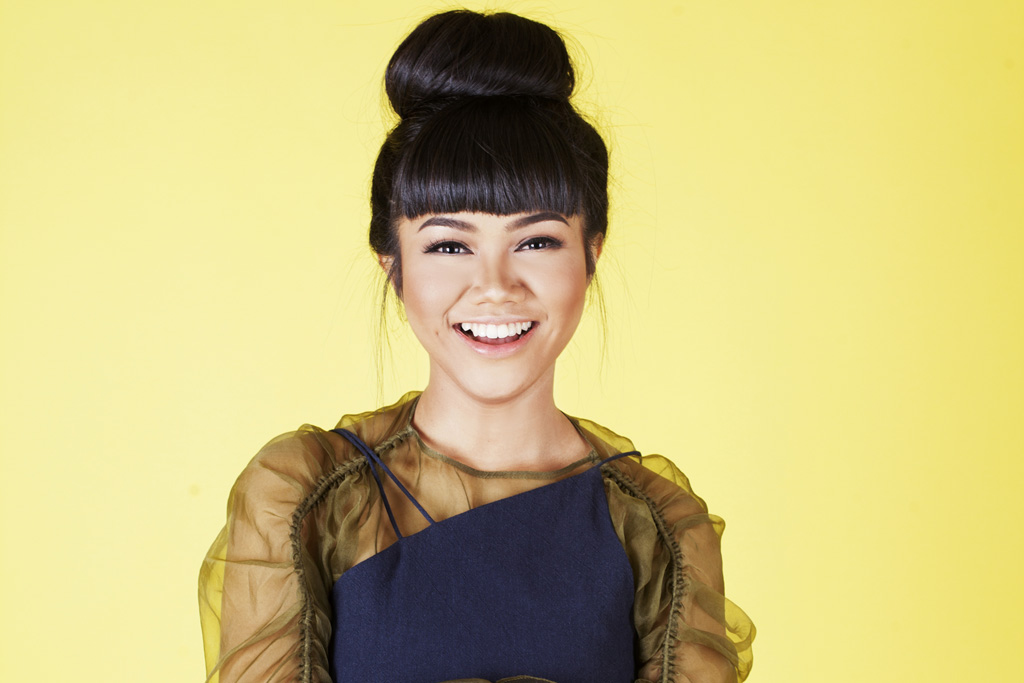 Many of you probably have heard about the pop solo singer YuRa, but for those of you who may need some introduction, no, YuRa is not Korean nor Japanese. This YuRa whom I am referring to is Indonesia and YuRa is an abbreviation of her original name Yunita Rachman, which has become her stage name. For this reason, I prefer to spell her name with a capital R: YuRa. By her name, she might be mistaken for the K-pop singer 유라 (Yura), by the way, but their music genres are completely different.
The 27 y.o. YuRa is considerably new in the pop music industry. She was one of the contestants in the singing competition the Voice Indonesia in 2013, just over five years ago. Although she didn't come out as the winner of the program, she did win the hearts of Indonesian music fans proven by the success of her first album "Yura" released one year later.
What brought her to my attention, however is not her first album. YuRa caught my attention with her MV cover which I came across on YouTube in recent weeks. It was the MV for her second album titled "Merakit" which features a group of people who represent the community of people with special needs. I was, like, ELECTRIFIED right at that moment, thinking "this girl is calling for more inclusion in our pop music culture."
I personally think YuRa is eligible to stand in line with Indonesian female song writers like Melly Goeslaw, Dewiq, Raisa and Isyana, just to name a few. Here are at least three reasons as to why she deserves our 'likes'.
Three 'Likes' for YuRa
÷÷ People who have special needs in a pop music video ÷÷ As I said earlier, the MV features people who have special needs. These people represent a community who would  not be otherwise represented in any other MVs, particularly so in the genre of pop music. This is the most inspirational MV I have ever seen in YouTube MVs for pop songs in recent decade. Seriously, she is breaking the ground for music videos by being more inclusive not only among other Indonesian artists, but internationally I believe.
÷÷ The song lyrics÷÷ YuRa writes songs as well as sings. And the words are so empowering. She says things like, your limitations are your strength, and let us keep moving forward … towards our goal. Overall, she sends out message of resilience and courage, and at the same time affirming the struggle, the tears and the sweat that anyone would experience at our different moments in life. Hold on a sec before you judge her, hers does not call for a Utopian type of courage that might suggest that your pain is unreal or suggest that tears are only for the weak. She makes me wonder, how many female artists are actually composing, or co-writing, songs in today's pop music industry in Indonesia? Very few in comparison to the male songwriters in present time. YuRa is so far the youngest female recipient of AMI, Anugerah Musik Indonesia (Indonesian Gifts of Music), for  songwriter category which she received at age 26 in 2017. On top of that, she won two more AMI awards for two consecutive years (2017 & 2018) as the best pop female artist. 
÷÷ The album title ÷÷ First of all, the title of the album, "Merakit", means making something by putting its parts together, like the process that one takes in order to make a D-I-Y project, except that "Merakit" often has to do with electronics and their electrical parts. The story behind that name for her album implies her perseverance when composing the album.
YuRa's special message for you and me
I was curious how she came up with such powerful words. As described in her official MV for the song "Merakit" (can be seen on her YouTube channel), she tells you that she hit bottom rock herself prior to writing the song which then became her album cover. Just like any of us. She didn't stop there, however. She acknowledges the pain and the tears that are parts of our human experience. And, more importantly, YuRa recognises those who have affirmed and encouraged her to get through those tough times.
YuRa has a very important message for us, I think, because she reminds us that people need each other in bad times as well as in good times. As a matter of fact, no body succeeds on her own or his own effort. YuRa might have become a star right now because of the support of many people behind her back. So, the lesson for us and for me is this.
 The hard work of individuals alone is not a sufficient measure of success. We also have to always recognise that our work – doesn't matter how hard or how soft – depends on the many people who have walked before us, behind us and beside us.