Have you ever the Indian dramas, or maybe the movie Slumdog Millionaire (the most famous one). Anyways when we heard about India, one thing that came into my mind is the dance, the clothing, and the Holi festival, something that fun, or very cheerful and in fact it's nothing like that. It's a developing country, and indeed there are poverties everywhere, and they also one of the countries that often being "exoticism" in a lot of ways.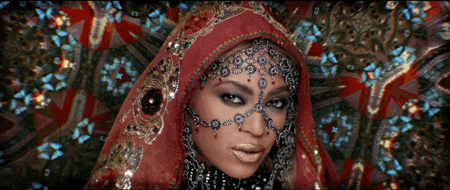 While exoticism is mainly something not new in the industry, but why don't we look on the artists that actually having the Indian background. I have wrote about MIA who has Tamil, and Sri Lankan background, and I personally love her so much because she's just a unique artist in general. I think we will talk about a little girl power here, regarding Beyoncé was accused for exoticism, but that wasn't really her fault, the creative director should be looking more research, and thinking about the impact after the music released. I LOVE COLDPLAY AND BEYONCÉ so there's no hate about this, and there is a pro and con regarding the music video, but overall its a spectacular music.
"Genres that support other genres, redefining the concept of a melting pot. Respect the history, don't live in it. I plan to bring together music's best forward thinkers who have contributed to all our lives. When music acts as inspiration, it's boundary-less." – M.I.A on NME
Like MIA's POWA is just something that I like, creatively it's different from other female music video, she's bold, and in terms of the music, it's unique she's making a reference that she's not Ariana, Rihanna and more, and that's true why would people compare this amazing women, we all should be smarter, and taking care of each other!
I have Raja Kumari, and AR Rahman as well, you might heard AR Rahman from the song Jai Ho which part of the Slumdog Millionaire soundtrack, but I put the song Endrendrum Punnagai, which I think is a very catchy song. While Raja Kumari is an Indian and American artist, and she learnt dancing, the traditional dance one, and mixing it with hip hop. It means that you don't have to forget where our ancestor coming from, like I am part of Chinese Indonesian but sometimes myself is not aware of my culture as well, maybe I would like to learn about the culture more deeply in the future. I think Raja Kumari is really one of the people out there that teaching you guys embracing your culture..:)
Just found out this guy! Sidhu Moose Wala, which move to Canada at a young age, but to be fair his flow is unique, and for him to have it rapping in Indian is such an amazing move to do so! In fact he also used the turban that part of his culture and he embraced it, and I really like it for that, but at the same time you can see the contrast of the cars around, the beats also contain some of Indian's instruments as well, so don't forget to check it out.