whatt'sss up you guyzzz, its almost 3 months for me to spend my time here in Indonesia, definitely I have less time in contact with the internet world when I am around with my family..but I try to keep update with all the music things on the internet..through social medias, hopefully I got enough update to keep the content fresh…anyways lets talk about YG BOY GROUPS ! its been announced this morning that YG will debut another boy group consists of 6 people, it could be the last 13 trainees that made it to the final, but YG will share the updates each day, but I hope this time is going to be alright, for example kpop fans are really a fan of fanwar…which I don't really get that. In fact although iKon, and WINNER are in the same company the fans are just loving to fight on who's the best, in fact why can't you just stream all the music videos equally ?
So while they are worry about which trainees are actually making for the final line up for the YG second boy group, Lee Byoung Gon actually made a soundcloud account guys ! so you guys can check it out, in fact some of the tracks are actually put into a private account. In fact some said that Lee Byoung Gon was an underground artist before joining the company, so I think listening to his mixtapes are very important, because the fans are able to check his artistry, and just admire it, similar to Noa Kazama that has been active on soundcloud (thanks to all the fans that put out the updates) omg…they just give me what I called soundclousm.
Movinggg onn…does anyone remember the chicken guy that covering bunch of kpop songs ? BIG MARVEL yup that's the guy 🙂 surprisingly he actually making a real music, other than the chicken thing, and his music is really cool, not only that the visual of the music videos are just legit !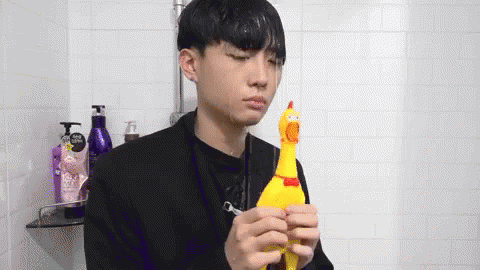 I was surprised when he actually did a real music video, when I checked out the music I don't even realised that apparently I subscribed to his channel..I think he really displayed a different image for when he was having fun with the chicken, and when he really need to be serious. He a reminded me with JOJI when he made the song STFU, and more, but the song that actually I really like are called Thursday Party, and Twilight. I mean his subscribers are not joke as well, with 6 mill subscribers I think he will do well on promoting his music. 🙂