Its not a secret anymore that I'm a fan of major sports, tennis and football. I love Liverpool but after Gerrard departed from the club its a bit sad for me. I will always be forever a fan of Steven Gerrard, no matter people calling him the slip or whatever, he will always be part of my first football hero. Its sad that I don't have the opportunity of seeing him play against other great players, but definitely his career with Liverpool is one of the best example of pure fan, home grown city man, and loyalty. Gerrard is the only footballer in history to score in an FA Cup Final, a League Cup Final, a UEFA Cup Final and a UEFA Champions League Final, winning on each occasion, he's amazing right ?, and despite everything thanks for being the England, and Liverpool captain. Cheers !
Steven Gerrard with the shot
It's in the net for England
I could say no one is gaining respect more than Roger Federer, having 20 grand slams, at age 37 he's the most respectable athletes. To me if you see Roger Federer playing its almost seeing a theatrical ballet, its beautiful. I don't think tennis is full of physical game, but its more into the mental game, because you're on the court alone, try to figure out the challenges, and plan by your own, you can see Roger's attitude grown on the court, and that's why we love Roger Federer. I think people don't get it, sometimes when we see tennis we cry together, and laugh together with the players, because we put our mind to it most of the times.
If you always get love you know how Federer felt
You can get around a waist, just pretend you're a belt
Dele Alli is definitely my favourite athlete at the moment, despite being young he's doing so well. Although during the World Cup he got some injury issues, but I think reaching the Semis, and although there's an unfair thing going on with the referee, he's amazing player. I'm hoping that with Spurs this season he will doing well, more than just a viral goal celebration (from beauty blogger, musician, celebrity to even a kpop star doing it). I love how he carries himself outside the pitch, funny, young, talented, hopefully I could see him play in the future as well. Anyways he's also a fan of Steven Gerrard, and to be honest I think that his tattoos are amazing, especially Psalm 24:3 tattoo, that tattoo really give me a high hope when I felt a bit down several days ago. I think because of his age people in their 20s (early I was born in 1998) are relatable with young players, especially with their music. I also in love with the England team this year, because a lot of them got different cultural backgrounds, half of them are having black, or mixed background, showing that we're a team in a competition reaching for 1 goal.
Try me, I'mma pull the switch
I'm Dele Alli on the pitch
I have the World Cup winner Paul Pogba ! I'm a fan of him both inside the pitch, and outside, I think the most important think before doing anything in your life is praying, and Pogba often did it. Which I think its amazing, I love his leadership for the current Manchester United. But above all I'm really a fan of his IDGAF attitude vibes, that I think got its own swag from him. I think he is one of the France players that showing diversity in race, culture, and religion will not divine any human at certain point, because we're all human.
I'll go Trapstar, and get my girl clothes
And spend the Paul Pogba, that's a Peugot
I really love Stephen Curry on how he is so devoted to God. I do understand how important the way we live is part of the ministry, even if its a small thing. I often forgot that even my thoughts, my speech to other are part of my ministry, doing my best is definitely part of the ministry that I serve as a human being to Christ. And I really love part of the sport world because they're really carry it on their way like that. The fact that he got a lot of cute moments with his daughter is the cutest thing I've ever seen on the sports world as well.
I'm feelin' like Stephen Curry I'm feelin' like Stephen Curry, swish
I know I'm the most sentimental Liverpool fan ever, I was sad the day the players move out to another club, or even not playing anymore. But at the end of the day that's life, and people need to start their life from something different right ? but the most proudest thing when they remember about Liverpool, I'm glad that Coutinho is also doing well in Barcelona, as what Vin Diesel said "No matter where you are, whether it's a quarter-mile away or halfway around the world, you'll always be with me and you'll always be my brother." 🙂 so I don't think I'm really that sad anymore as long as the players are doing well, and they were shaped at Liverpool 🙂 ❤
I got the shot Philippe Coutinho
Making you go missing like Nemo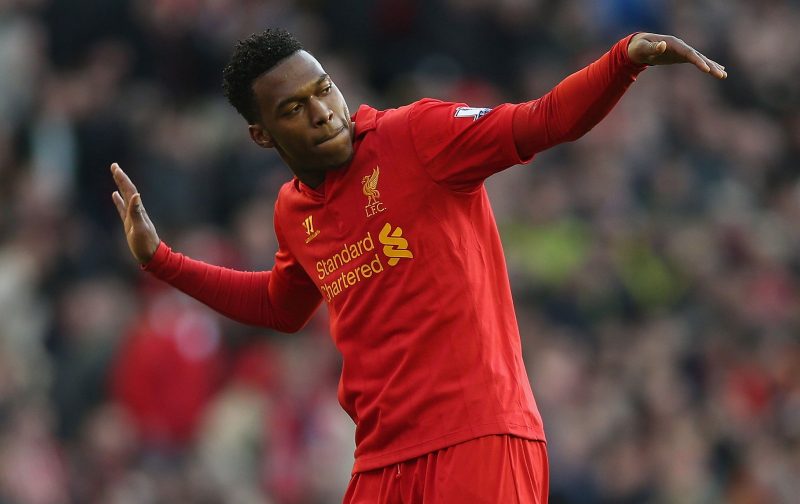 Although Steven Gerrard isn't with Liverpool or even playing football, but during the time he spent on Liverpool there's Daniel Sturrdige that I'm a fan of as well. Yup same reason he loves to dance, and how devoted his game to God. Although its seems weird the way I love my favourite athletes, I found them relatable to me as a student, a young adult in life. I just feel like I'm also in a race against everything the world, uni life is definitely like a track, I'm stressed sometimes, and I feel like sport games are fun to watch yet they're real people at the same time, and their musics are relatable to me as well.
I dont wanna hear mans rubbish
I'm running up front like Daniel Sturridge