Hii guys with the World Cup is coming over, I'm a fan of football (again), but this time is a little bit different, I'm more into the off court/field fans, but skills are still important too, so I feel like in this era, social media is really huge on connecting with the fans, but its also built up connections for the players with the outside football…(if you know what I mean). If you know Drake's Forever is talking about basketball star's LeBron James, in the UK Grime is really huge. Well Grime is what people say the hip hop version of UK but its not really hip hop version of UK, but they're similar. On the interview with GRM Daily, Wretch 32, and Dele Alli was interviewed about Lyric Battle, so they guest which artists have that lyrics. So football stars have been a huge topic lately, especially with the World Cup games, so I picked 3 from the interview 🙂 as usual, and 1 bonus guys.
Seems like every time they take a shot they hit the crossbar
And I move like Neymar
First one we have Dizzee Rascal and Calvin Harris, I could tell that the song was fun to dance along too, not my song that I'll play at the moment (I'm in stress period 😦 ) but I love the song, like the song title it will hyped you up, its a very colourful song, its perfect from Friday Night. I mean who doesn't love Neymar ? he's quiet charming, and extremely talented right ?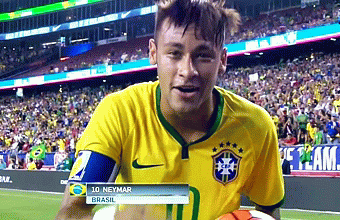 I was shooting Dele in the Alli from an Eriksen, age 16 picking Harry up
Next up we have P Money featuring Vortex for the titled Straight Bars, I think grimes are amazing for Friday nights when your mood is totally there, but right now I'm not really there yet, but grimes are amazing, I mean these days who doesn't fell for Dele right ? he's tall, charming, his pace is not bad at the field, I think his funny as well, so give it to Dele Alli ❤
I come to your team and I fuck shit up
I'm David Moyes
We have the great Stormzy from the interview, David Moyes is not a player (well he used to) but he's a manager, Stormzy is an amazing artist, I think one of the grime artists that making it big in the US right now. Like the title Know Me From, I think its about his neighbourhood (not sure), because the music video was filmed between the houses on certain area, that's my main reason on saying it so. But again the song is really hyped up, and fun.
Bonus
Lingard Lingard
I be feeling like I'm Jesse Lingard
The bonus will be for Malachi Amour X Manzo, they make a song Lingard. I mean its truly a tribute song, also Jesse is one of the current football players that's really on social media along with the other younger players like Marcus Rashford, and Dele Alli. Those players also stated the music that they're into right now, and love so it make sense when they're friends with the artists. I think the song is very interesting, like in the UK football is very huge right ? I think one day I want to see their team playing, and I would like to see my favourite player before they're getting to retire.
Please vote for Lingard's goal 
https://www.fifa.com/worldcup/videos/goal-of-the-tournament/
Another bonus guys
PS ; AJ Tracey ones is also dedicated to Dele Alli
I'm Dele Alli on the pitch
Tekkers leave him in a ditch
Not only that Omz also has a track titled Dele Alli, I guess grime music in the UK, is equally as dope as hip hop in the US where sports and music are just rub shoulders to each other, I mean its amazing to see them dedicated the songs to the player, I really hope that one day I'm able to watch football live, its sad that I don't have the chance to see Steven Gerrard live performances.