The reason why I named this post Anonymous, is actually its so hard to give people an idea that Thirty Seconds to Mars is a band, and yasss Jared Leto is more than just an Academy Award actor 
Most the people around actually doesn't know that actually Jared Leto has a bad :') it made cringe sometimes lols.. so for me to get in pace with them when I'm trying to introduce Thirty Seconds to Mars will be..
"Do you guys watch Suicide Squad ?..I love Joker " so people will be like "yeah, I know the Joker is soo goood looking"  so I'm explaining to them that Jared Leto is a singer, most of them were shocked, they don't even know that Jared is a singer.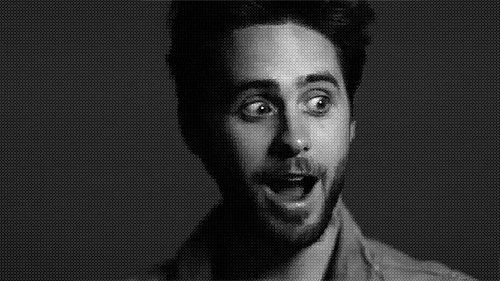 Actually it make sense since they started their music career by 1998 (the year I was born) but at the same time, actually they released their album every 4-5 years :') yup that's a long time 🙂 their new album is called America. I knew them when I was in secondary school at that time my friends introduced me to the band and I loved it, they also have several collaborations, for example with Kanye West, and A$AP Rocky. I think this album is definitely more approachable my the younger audience 🙂 They have Halsey, and A$AP Rocky on the album 🙂 The reason why I love Thirty Seconds to Mars is because they just have this feeling that different from other musicians, some of the songs are very dreamy like, like from the album Love, Lust, Faith and Dreams ; City of Angels, and Up in The Air. And from their old released Beautiful Lie, its very interesting to see Jared Leto as the director for their music videos.
Since the tiled of the album is America, their music video for Walk On Water (yup it's not Eminem's song 🙂 ) is concentrate on what's going on with the society. Its about the mad things going on but at the same time its also showing its greatness, and the people/fans show their support for their country, but to be honest its not only happening in America (the mad things) but all over the world :). This is not the first time that Thirty Seconds to Mars wrote songs about peace, but back in their album This is War, for the song This is War.
I think overall I really love their new albums, firstly if you look at their old songs like Hurricane, The Kill (Bury Me) its totally different, I'm not saying its bad 🙂 since I love it, but at the same time, a lot of younger audiences are not able to relate 🙂 so with this new direction I think Thirty Seconds to Mars showing their growth as an artist, and their experiments are also the best 🙂
And yess Kings and Queens is my all time favourite from Thirty Seconds to Mars 🙂 ❤