Okay let's starts here, back in 2009 I was in 6 grade, and Boy Before Flowers was so hot af..that year 2NE1 got debuted and released the singled I Don't Care, I don't know why I got the song, and sing it all the time..even the chorus part I still sing it to remove my nervousness. Now that 2NE1 disbanded they all go to their separate parts of music, as a fan I'll definitely support her no matter what. The first paragraphs referred that she's a flop 😦 😦 😦 its been almost 2 years after CL released the single Lifted.
Actually I love Lifted, in fact is a chill hip hop songs that you can enjoy at your drive way..its a sampled song by Wu Tang Clan called Method Man actually the songs shared a different vibes, so CL, and TEDDY did very well on sampling, and re-styled the songs. Lifted is definitely perfect for a pool party at summer, FYI I love Wu Tang Clan as well 🙂 they're amazing.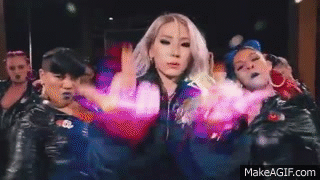 CL known to rap in Korean language, the single like BADDEST FEMALE is became a huge hit not only in Korea but also in the US too, to be honest because she's really highlighted the "coolness" of being an Asian women. And its important to say that because there is, this streotype of Asian women need to be a lawyer, doctor, and house wife.. but that's not true ❤
Hello Bitches is like the 2nd chapter of Baddest Female, choreographed by Parris, but I think the thing that made the fans a little bit disappointed is the actual MV never been released. I love Hello Bitches soo much, the choreographed and everything just screamed CL mann.. like fashion wise its dope no one can pulled it off like CL did.
Hello Bitches actually very cool, and empowering for girls. I do believe in terms of concepts there will be no girl group like 2NE1 and CL, no one actually dressed crazily like 2NE1. If you look at them actually they look cool, but not as cool as 2NE1 there is something that you can't copy from 2NE1, like it said "2NE1 can be worn by 2NE1 themselves". No girl groups will actually sing a song like Ugly, or Go Away right ?…
This is for all my bad girls around the world
Not bad meaning bad but bad meaning good you know
Let's light it up and let it burn like we don't care
Let 'em know how it feels damn good to be bad
I really need her comeback ASAP so that she can show the world, why she is not to be play with 🙂 she's not featured in some of awesome musician like Diplo, Riff Raff, but I need her own comeback… 🙂 CL is suited with someone that's more collective like 88rising I supposed 🙂  Like she got amazing R&B voice, amazing rap skills, amazing dance moves but one thing for sure THE FANS WILL ALWAYS BE HERE, THE GZB, BLACKJACKS 🙂 ❤