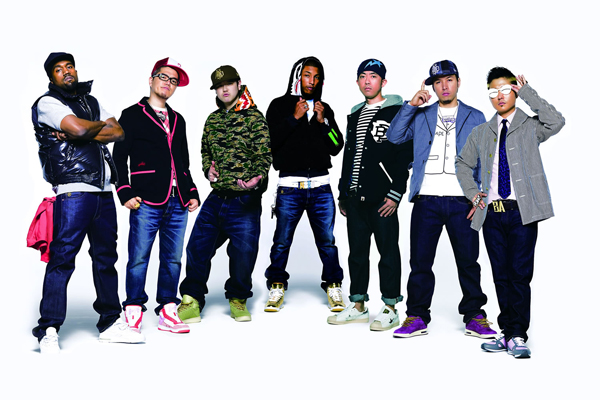 credit to barks 
If you guys asked me some of my friends (most of them are from Asia) starting to think that rapping is very cool after they listen to K-Pop but why it's cool.. and acts like Rich Brian break the hip hop industry in the US help its more accepted in Asia
Before K-Pop achieve huge success everyone listen to J-Pop or mainly Japanese music artists but at some point its sunk after Psy break the record 😦 I do hope people look at the music itself rather than only face :). Even if you listen to the music in Asia right now they are very influenced by hip hop music..
Last but not least all of the words are purely my own perspective I love all music 🙂 so don't worry I love PSY, K POP, J- POP and anything but I love specifically hip hop music 🙂
To be honest most of K-Pop groups consist of visuals, rapper, the main vocal, and vocal 🙂 main problems is some of the underground rappers felt that the k- pop rappers are not really the "rapper". On this video they were debating against the k-pop hip hop and the underground hip hop scene in South Korea. Main line here is that some people believe that idol rapper are people who are trained to be a rapper, while rapper "rapper" are people who are blessed to rap 🙂
Don't get me wrong I'm not biased of music so I love B-Free, but some of BTS songs I have to admit it they are addictive :). But no more beef for the B-Free drama already he apologized back right after what happened.
Honestly speaking of the genre music itself 🙂 there are some "idol rapper" that came with underground background too 🙂 to name it view MINO, ZICO, Rap Monster (RM for now 🙂
Because there is this stigma that as an idol their artistry will have a boundaries that build by their agency, however agency like YG Entertainment give their artist to work with their own creativity and mostly the work with their in house producers to let their artist explore their own artistry, and it became their own trade mark 🙂 idol like G Dragon, CL, WINNER, iKon, AKMU, BIGBANG, EPIK HIGH, were given a complete freedom to do their music. YG has their own independent label as well with Teddy Park and KUSH as the head of the producer even Okasian signed to the label. But it is YG trademark to have hip hop element to their music.
for example WINNER ; they explore the new music such as trap that is not commonly known yet in South Korea 🙂
And definitely shows like Show Me the Money, Unpretty Rapstar, High School Rapper, from South Korea attract public's eyes since they have star like Snoop Dogg in SMTM, and mostly the song collaborations through the music shows help the artist to gained popularity from the country or outside :). Technically since the shows is highly popular 🙂 China even copying the show SMTM to The Rap of China, well its now settled though.
The Rap of China
But before K-Pop very huge J-Pop also have their colour to the music industry but as the time evolve some of the musician did not really follow the world trend so some of the fans can't relate anymore but musician like m-flo, Teriyaki Boyz, Honest Boyz, EXILE TRIBE, and PKCZ  really help to find the balance with their music and the world. Even artist like KOHH also achieved international famed too 🙂
And to be honest without the K-Pop scene going world wide thanks to PSY's Gangnam Style the K-Pop industry would not big as now :), and without act like BIGBANG, and 2NE1 who are the 2nd Generations of K-Pop industry the other generations would find struggle 🙂
But personally before everything happened K-Pop does help the hip hop music to be more accepted in Asia, before they always relate the hip hop music with gangster related 🙂 but actually it is not. With J-Pop getting so cool with their own style K-Pop followed but adding with American style sprinkle on top, and diversity always very positive, other artists like Higher Brothers 🙂 Rich Brian 🙂 NIKI 🙂 and the whole game of 88rising 🙂 help the way out more because they got something to show 🙂 Hip Hop from Asia might be different from what they offered in America but its definitely worth to checking it out 🙂
I do get it that some underground musician are not equally getting the reception that they deserve, because first the market tend to see the visual of the music videos, the social media, and also the fan base 🙂 there are artist like off and off, Mars Maine, Chico Carlito